A Mystery Plant No More! Mystery Solved - It's a Sicklepod!
Great News! The Mystery Plant is a Sicklepod! Many thanks, Nancy!

I received this email from my friend Nancy, who reads Walter Reeves' gardening newsletter:

Nancy says: "You may already know the name but this looks like your picture in your blog. This plant was in Walter Reeves newsletter today."
___________________________________________________

The first section of this post is Nancy's information from Walter Reeves' newsletter:



Sicklepod
Senna obtusifolia
Caesalpinia family (Caesalpiniaceae)
Description: This annual native plant is 1-2½' tall, branching occasionally. The stems are light green and somewhat ridged. The lower stems often sprawl along the ground in open areas, otherwise this plant is erect. The compound leaves alternate along the stems. They are evenly pinnate, usually with 3 pairs of leaflets, and have long leaf stems (primary petioles). The obovate leaflets are individually 1½" long and 1" across. They are devoid of hairs, and are light green on the underside. There is an extra-floral nectary close to the lowest pair of leaflets on the upper side of each compound leaf. This nectary resembles a small brown spike. The foliage has a slightly rank odor.

One or two flowers develop from the upper axils of the compound leaves. These flowers have pedicels about 1" long and tend to nod slightly downward. They are about 1" across, and consist of 5 rounded yellow petals and 10 stamens; the petals are often slightly unequal in size. The flowers are subtended by a light green calyx that is divided into 5 folded sepals; these sepals are shorter than the petals and hairless. In Illinois, the blooming period occurs from late summer through the fall, and lasts about 1-2 months. There is no floral scent. A long seedpod develops from each flower that is 4-6" long, but only 1/3" across. This seedpod curves downward and resembles a sickle in its overall shape. The root system consists of taproot. This plant spreads by reseeding itself.

Cultivation: The preference is full sun and moist to slightly dry conditions. This plant tolerates different kinds of soil, from fertile loam to gravelly soil; in fact, it often thrives in railroad ballast. Drought tolerance is good, and the foliage is rarely bothered by foliar disease. It is somewhat slow to develop for an annual plant, and tends to bloom late in the year in Illinois.

Range & Habitat: Sicklepod has been reported from only a few counties in southern Illinois and in the Chicago area; it has been observed recently along a railroad track in Champaign County, where it may be adventive from the south (see Distribution Map). This is a rare plant in Illinois, although it is more common in many south-central and southeastern states of the US; it also occurs in the American tropics. Habitat information is scanty, but it has been observed in moist meadows along rivers, open areas along railroads, and in waste areas. It could probably thrive in disturbed areas of prairies.

Faunal Associations: The extra-floral nectaries attract ants primarily; they may also attract some wasps, flies, or small bees. The pollen of the flowers attract long-tongued bees, such as bumblebees, Miner bees, and large Leaf-Cutting bees. The caterpillars of several species of Sulfur butterflies are known to feed on the foliage of Cassia spp., including Eurema lisa (Little Sulfur), Eurema nicippe (Sleepy Orange), and Phoebis sennae cubule (Cloudless Sulfur). Some upland gamebirds occasionally eat the seeds of Senna spp., especially the Bobwhite and Greater Prairie Chicken. Mammalian herbivores are unlikely to utilize this plant as a food source to any significant extent because of the unpleasant taste and toxic nature of the foliage, which has been found capable of poisoning livestock.

Photographic Location: Photographs were taken along a railroad in Savoy, Illinois.

Comments: This rare plant has attractive foliage, but blooms sparingly. In the upper photograph on the lower right, is one of the sickle-shaped seedpods; it is still green. Sicklepod resembles Senna marilandica (Maryland Senna) and Senna hebecarpa (Wild Senna) somewhat in appearance, but it is a shorter annual plant that has 1) fewer leaflets per compound leaf, 2) leaflets with a broader shape, and 3) more slender and curved seedpods. In the past, Sicklepod was often assigned to the Bean family (Fabaceae), rather than the Caesalpinia family.
_____________________________________________________

Then this next section is from someone else's blog, who is also a big admirer of the Mystery Plant, which also came up in their garden.

"My Mystery plant is now about 4 feet tall, and it is blooming. We love our little vagabond, but we'd like to know what he/she is. I thought some bloom pictures might help somenone help us to identify this plant.

It looks wonderful--except for one thing: in the last picture I'll post below, you can see that it's getting some black streaks on its stems and branches. Today I found that one whole branch had fallen because of the black stuff. Really, now I don't only NOT KNOW what it is, but I also don't know if I should try to save it if something is killing it.

Here are the pictures:"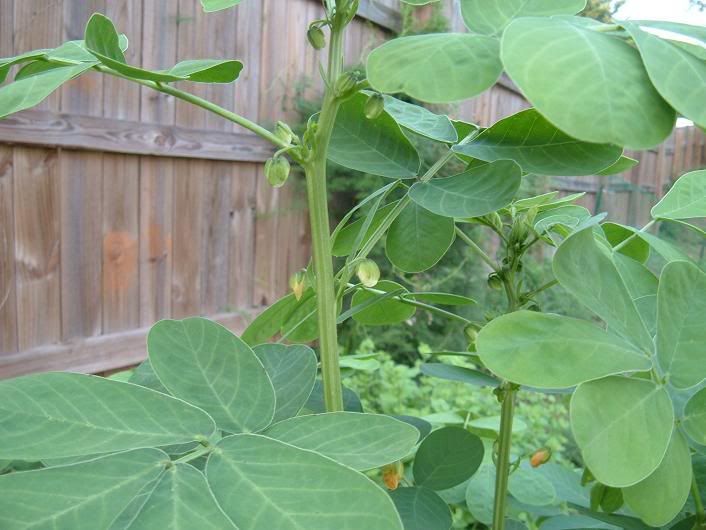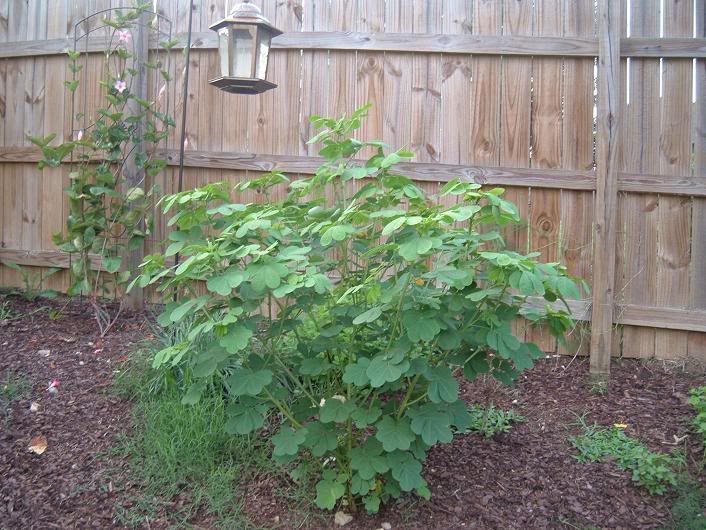 http://www.paulding.com/forum/index.php?showtopic=112393

_________________________________________________

This last section is from the Q&A section of Walter Reeves' website. This is in response to someone else's question about the Mystery Plant, since I did not hear from Reeves myself.

"Sicklepod (Coffeebean) - Identification
Q: This interesting plant came up in my flower bed. I let it grow to see what it would be and it continues to grow!

The leaves have a soft touch and around sunset the leaves begin to close and it looks like rows of green butterflies hanging from the branches.

Could you please tell me what it is?
A: It's sicklepod, Cassia obtusifolia, also known as coffee-bean. I agree that the foliage is interesting - but my Dad paid me good money to pull up every plant I saw in our hayfield because the cows wouldn't eat hay contaminated with it.

When I was a kid, we called it coffeebean because the crushed seedpod smelled vaguely of coffee. Don't try it as a substitute for your morning java; the seeds are mildly poisonous.

It is an annual plant that comes up from seed each spring. You are welcome to grow it for its interesting foliage, although I think you'll get tired of the rangy branches when it reaches its maximum height of 6 feet.

I've heard that the young shoots are edible but, like poke sallet, I'll leave it to others to enjoy for a meal.

If you decide you don't want it, pull the distinctive seedlings as you discover them. "


http://www.walterreeves.com/qa_display.phtml?qaID=1919
________________________________________________________

As you can see from all the photos and information, the sicklepod is a relatively unknown plant, which just appears in people's yards and gardens and walkways, completely unannounced and uninvited. Judging from the comments from others, it also has an avid and admiring following! I love it too!
Mystery solved! Thanks so much for all your comments and interest in my mystery plant, which I now call my sicklepod. A special thanks to Nancy, who just happened to receive a gardening newsletter and recognized my mystery plant from my blog.
Labels: AJC, garden, mystery plant, Nancy, sicklepod, Walter Reeves, yellow blooms